...And perhaps one to many Pizza...
Well it has taken me a year to get round to it but to congratulate myself for getting promoted, to the lofty heights of HEO I have treated myself to a new Wested Jacket.
This jacket is screen accurate to the one that you'll see worn by Indiana Jones in the forthcoming film Indiana Jones and the Kingdom of Skulls.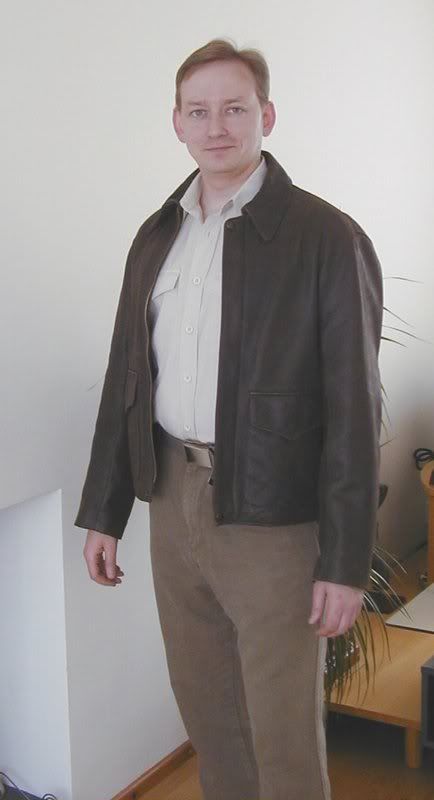 Peter Botwright of Wested Leather made all of the jackets for the Original Indiana Jones trilogy and provided patterns and materials for this new jacket.
Ever since first visiting Westead at the beginning of 2007 and buying my Das Boot/Dr Who jacket I had promised myself I would buy one of their original screen accurate Raiders of the Lost Ark Jacket and figured getting my promotion was as good a reason as any, so I went over there today.
I tried on the Lambskin Raiders jacket (which is the same material used for the film jackets) and a harder wearing Goatskin leather, but while they were cracking good jackets they weren't quite as nice as this which has all the features of the jacket Peter made from the Last Crusade (for the uber geeks out there, it's got press studs on the front zip flap and the vent starts lower off the shoulder giving (imho) a nicer line to the jacket.
So I went for Indy's fourth jacket as seen above....and very very pleased with it I am to. It looks slightly worn in too which the Raiders jackets didn't, they were just new shiny dark brown leather.
In short I'm very pleased with it and will now have to prevent myself from buying a Fedora to go with it. I don't suit hats you see I have a tiny head.
...er Bryan...where do you get your rather
spiffing
hats from ???...