I don't know about 'Sumer is icumen in' but here in Sunny New Addington the branches are most definately coming into leaf....or sticking to Caddyman's Olde English theme
Now Springes the Spray
I'm off work today.
I have 34 days leave to take before May 31 ...and with my imediateline manager likely to leave the Department at short notice, I decided I'd take time off where I can.I stayed up late last night I talked to Albert after he got in at 11:35 until about 12:35 and then sat up watching Scrubs and the IT Crowd until about 2 am.
I woke at 7 as Albert went through the Bathroom and since I couldn't get back to sleep I've pottered around ever since.
I took some photo's of my Micra FidGeT (N243FGT) who is being collected .... * looks around furtively to ensure she can't hear* by the salvors tomorrow.
I reattached all the bits of trim that have fallen of her and made her look as good as possible a few weeks back and have taken a few pics of her. Having had the little bug for 13 years you'd think I'd have got round to taking a few pictures of her...but no. So this morning I took her off to a nice bit of farmland out the back and got some nice pictures of her..... Deffinately a beutiful spring moring with the woods beginning to show the first signs of Spring.
Isnt she lovely ?!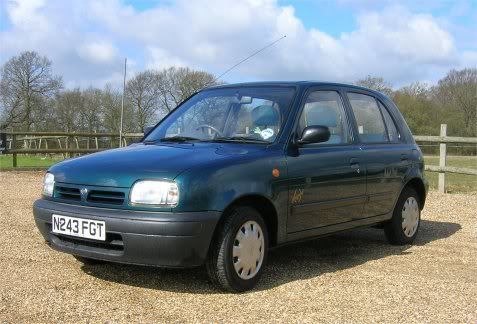 I even got a picture of my two cars together.... I would post 'em but owing to the fact that my camera isn't compatible with my 13 year old PC I can't download 'em off the camera.
Once the pics were taken I prised the Nissan Badge off her bum and will keep it as a momento....I can't guarentee that her rear number plate won't fall off either.....well she was hit in the rear.
....Poor FidGeT.
Not sure what I'll do for the rest of the day, it is lovely outside so I could go out for an 'acclimatisation' spin in my new 206..... either way I'll probably end up at the Gym this afternoon and I might even get a couple of beers in and a small piza for the last episode of 'Ashes to Ashes' tonight.
Thank's to Bryan's post about Spring, and this mornings bimble through the country lanes out the back, I am currently listening to the very appropriate 'Sumer is icumen in' - Chants medievaux anglais by the Hilliard Enemble.
I even feel a bit of
This is a link to an example website
Mediaeval baebes coming later on ....
..Well.... I
wish
!! .....