... Well 30 years ago this month to be precise a small-budget sci fi film by a relatively new Director was released (25th May 1977). It was called Star Wars.
The rest is cinematic and indeed cultural History.
To mark the 30th Anniversary of the Film a huge Exhibition is opening at County Hall in Central London. 280 original models, creatures, props and costumes will be on display. I am not sure whether I'll go as I believe that many of the items were part of the 1999-2000 Magic and Myth exhibition so I will have already seen them and at £24 a ticket it's a bit steep simply to go and update my reference library with a million digital photos (not sure they'd invented decent digital cameras in 1999 !
One thing puzzles me though. The 30th Anniversary Star Wars exhibition opens tomorrow on Saturay 5th of May....
Which is a shame really because if it had opened today they could have said...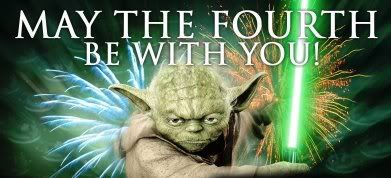 ... I'll get my coat