I bought a very special present formy Mum today.
Last week I did a Random search for HMS Ajax, the Ship on which my Mum's Dad served during World War Two. I never knew my Grandad as he died very son after I was Christened as a baby.
It was interesting to see the items that were listed, photographs and Airfix models (which I remember from my childhood), First day covers from the decommissioning of the modern HMS Ajax in the mid 80's....and there tucked away in the listings was this....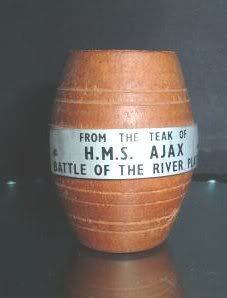 A curious little Match/spill (container for matches??) barrel Measuring 2.5" 6.5cm high 1.25" 3cm diameter ... a match spill apparently made from the wood of the Deck off the original HMS Ajax.
Th asking price was only a three pounds so I decided that I would bid on it nearer the end of the auction.
The seller was unable to tell me much about it and couldn't offer any provenance for it, confirming that it belonged to his mother who sadly passed away recently. Then a few days later he contacted me again:
"Further to your earlier question re: the HMS AJAX River Plate Item I have found a mention of a Jack Pepper who served on HMS Ajax 1944-47. My mothers maiden name was Pepper though this was not at the time of the battle he could have acquired it during his time of service. Hope this helps."
I thought that this was a pretty good information, suggesting that the item was probably genuine, and subsequently he has found and auctioned quite a few HMS Ajax related items - so I believe that his mother did have a link to the ship - though sadly we may never learn what exactly....but I believed the item to be genuine.
It seems remarkable to me that this little bit of deck as wandered through the years, and that my Grandad might indeed have walked over it many times. My Mum has some very nice pictures of her dad, and she has his Naval Cap ribbon from HMS Ajax. She said recently that She was Looking for a Box frame in which to mount the picture and display the ribbon. I thought this might fit in withthat display rather nicely.
For the whole week the price bid for the item stood, with one bid at £3.20. This morning when I checked it it had risen to £8.40 ish..... so I decided that this afternoon I would think of a maximum and enter it.
For quite a while I was winning.... but I had a sneaky feeling that I had better make sure that I was back from visiting my Grandma (Dad's Mum not my Mum's side of thefamily). Good job I came back, and only just made it in time...as the auction price started to jump up dramatically towards the end.
My max bids were exceeded quickly ......I was going to give up , but then thought how little camparatively the cost was to one of my stupid mass produced action figures.... I bid again....and with 6 seconds to go..I won !!!! Yayyy Me...
This would make my Mum an Excellent Mothers Day present....but to be honest I don't know if I can wait to give it to her....I just know that she will be absolutely choughed to bits ..... and to be honest that will be worth 10 times the price I paid !!