Well for the last five years absolutely no painting or drawing...
And only two sculptures with a third 'in progress' for almost two years.
Not very arty eh ?!
Well I've been feeling a bit inspired of late.
Partly at the friendly nagging of Christine, but also by something that Al Bean said during the lecture I attended recently.
He said that being an artist was a lot harder than going to the Moon.
Yeah RIGHT Al! I thought.
But then he explained. All his life he'd been a pilot, and a military man he just fell into the Astronaut programme. Sure he applied but essentially he was the right man in the right place. And were it not for Pete Conrad he might never have got near the moon. But History shows he did, and history shows that he , Conrad and Dick Gordon not only went to the moon as explorers, but a really close friends and arguably they got a lot more out of the experience for being so.
But Al Bean was right; he was the right person in the right place with the necessary skills that's what got him to the moon. And where next after that?!
Years after Apollo 12 he took what he said in his lecture had been his most challenging step, to become an artist. He chose that path because that's what he wanted to do, not because it was easy or that he was good at it, but because that's what defined him in himself and what made him happy and content. And he was very honest about how hard and how long the journey was, but how happy it made him. Why make the effort; well he sees life about being 'the best you can be'. And he said you couldn't really cal yourself an artist unless you were being an artist all the time.
A few years back when I was at a low point in my life, around the time that I was getting over a painful breakup, the death of my Uncle Nik and being forced out of a job I loved, I decided that in the future if anyone asked 'what I did', I would say I was a fencer and a sculptor.
I'm only a civil servant because I have to be one, in truth it is actually the one career I absolutely didn't want to pursue!
I'm a fencer and a sculptor because I do enjoy it. But while I do have some talent at both I could be a lot better at both too.
Especially the sculpting and the art. But I don't do enough sculpting or art work. So with the £4 - 5 per day I got as an allowance from the jury service I bought some cheap art equipment rolled up my sleeves (only to dip them in the paint when they fell down - mental note wear an old shirt for oil painting!) and have got stuck in!
So here's the result of my first ever attempt at oil painting. Harrison Schmitt taking a soilsample during Apollo 17 that last Manned moon mision which which I was just born for....
At the end of day one I was quite pleased - I'd like to say "it's no oil painting - but it is, so I won't. Quite pleased with the evenings work and looking forward to adding the detail etc - but darn oils don't dry quick o they ! Now I see why Al Bean uses acrylics !!
Also tried to do a quick water colour sketch of an Edward S Curtis photograph of Quilcene Boy....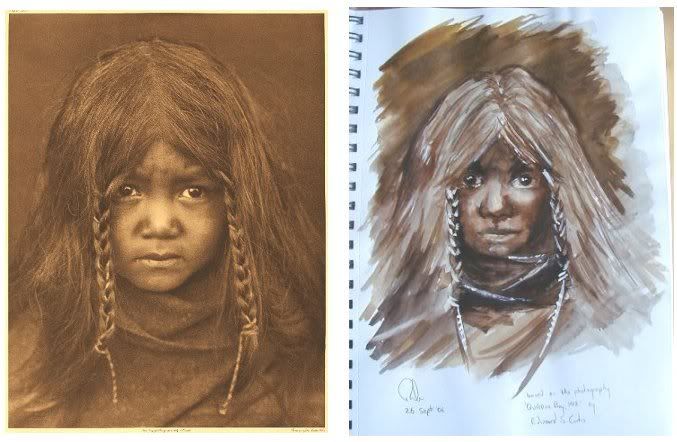 So I'm going to carry on drawing and painting and sculpting, and hopefully I'll improve as I go....
And maybe when I look back at this diary/blog in a few years time I won't feel a bit of a fraud when I tell people that I'm an amateur artist.