Well we are now into week four of a Trail ....
And it truly is.....
Hopefully life will return to normal towards the end of the week.
Today saw the return of yours truly to the bosom of the Department/Mothership. Dragged kicking and scraming from my dusty Whitehall Office and returned to the shiny glassness that is HQ.......
T'riffic !
Still it will cut my daily commute/hell to an hour each way and save me a 30 minute walk or an extra train journey.
Only thing is there are soooooo many people ....it feels quite odd.
The weekend was a bit of a maddun.
Saturday I went over to finish artexing Bro and S-i-L's living room, (Picking up the last of Wave 3 from the Dr Who line from Lakeside .....)
Got home and I had a BBQ on the spur of the moment and had Mum and Dad up for nosh and a beer or too.
Sunday I had to catch up on all the stuff I didn't do while on jury service so went shopping first thing. Called into to see Grandma and then spent the rest of the day painting and drawing... my French friend has been encouraging me to do so ...so after many years away from the pencil and the brush I knocked out a few very quick sketches and watercolours.
The best of the crop were these: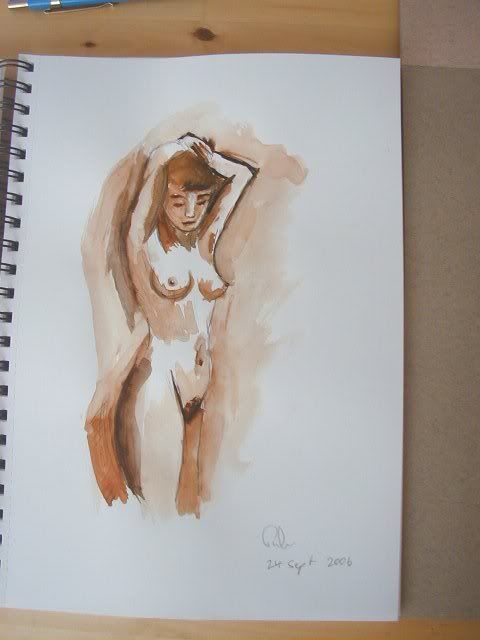 and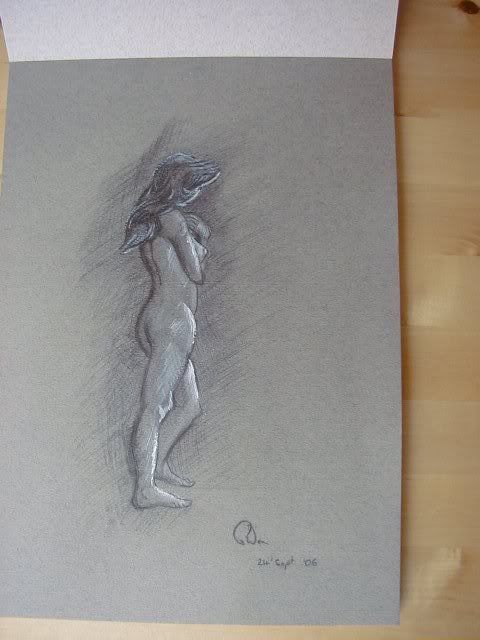 Sadly I don't have access to the young lady depicted, so I am going to try and pick up some cheapish books on photography of the nude form and paint and draw from them...as I can't afford the £100 to do evening classesat the moment.
I also have a few sculptures in mind, A Barn owl with wings outstretched and a nude. So after months of prevarication I am going to make a concerted effort to get back into the art zone.
Meeting Al Bean, Lunar Module Pilot and fourth man on the moon and seeing some of the pi$$ poor sculpts in the Surrey Sculpture Society Show at Wisley last weekend has really boosted my confidence and determination to start learning and improving again.